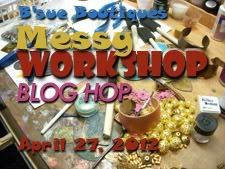 One of my favorite suppliers, B'Sue Boutiques, has coordinated this fun Blog hop where a bunch of us jewelry artists 'come clean' (pun intended) and show just how messy our workshops can be; it's
your chance to get a behind-the-scenes look at where I and my fellow artists make our magic by hopping from blog to blog and seeing the pictures, videos and stories we have shared.
At the bottom is the list of all the participants with the link to their blog; simply click on the one below mine to hop to the next, and so on.
Please feel free to leave comments on our blogs; just don't be too hard on us, OK?
Myself, I create in the eye of a hurricane and it shows. When the rubble gets so bad I cannot carve out a square foot of clear space, I stop working and start putting things away. However, what usually happens is that in handling my bits & pieces something will spark an idea and I'm off and running, and once again 'making' instead of 'cleaning'. My workshop is rarely ever really 'clean'.
So without further ado, here's a tour of my Messy Workshop! Click to enlarge the photos... if you dare. ;-)
From the street one would never imagine the chaos within.
The house was built in 1912; we're throwing it a birthday party this summer.
Those upper front windows are my workroom.
Or would you? That's a pretty unruly garden, with over 200 varieties of old and antique roses; I am not the 'lawn & shrubberies' type.
My workroom is on the second floor, but let's start downstairs where I have (yet again) taken over the dining room.
Dining Room BEFORE
Yes, it really morphed into THIS.
Sigh... this is what happens when Neal and I decide to play with my stuff; it all starts to gravitate downstairs. It will probably stay there until we have a dinner party and need the table back.
Time to head upstairs. Now before we enter my workroom, I have to warn you to prepare your eyes for extreme ugliness. The wallpaper was old and decrepit when I bought the house 22 years ago, and it has been the domicile for two teenage boys (stepson and my son, in turn). Both picked at the wallpaper. The house is 100 years old and the walls are the original lathe & plaster - both boys tried to hang pictures by hammering nails into the walls... which broke the plaster. As a result, this room looks like a French bordello that has been bombed by the Nazis. Don't say I didn't I warn you.
From the left of the door, clockwise:
This lovely wallpaper is flocked... as if the red & gold weren't bad enough.
The door leads to a walk-in closet; that just a bunch of random crap on the old daybed.
Chain hangs on the back and end of these little shelves.
Yes, that is a clamp-on shop light at the top of a 2x4. The ceiling fixture is broken.
L to R: Wire & Chain, stones & beads, shipping envelopes & gift boxes in the dresser, metal beads, filigrees, etc. and door into photo room
My small photo tent; there's a larger on on a big metal desk to the right.
I see I was photographing an ArachneMachina 'Pectus' spider pin.
At least I have lots of space and when we are done it will be an efficient workroom, with work surface on all four walls and dedicated areas for tasks like resin work & soldering. Most will be set up to work standing, to save my back (with seated areas for a few tasks) with storage beneath and pegboard on the walls to hang tools, chain, spools of wire and such.
Despite the chaos, there is an underlying organization and I am able to create beautiful things here. I work in the eye of the storm, where it is calm. When I am creating, I couldn't care less about peeling wallpaper; the vision in my mind's eye is all I can see. And I am OK with that. :-)
Here's a few of my latest creations!
'The Dark Heart of Steampunk' (I made this one for myself)
Flora & Fauna Brooch - Sold
Yes, lots of bugs. I'm going through a phase that I hope never ends. :-)
Messy Workshop Blog Hop Links
Brenda Sue Lansdowne, B'sue Boutiques
http://www.bsueboutiques.typepad.com/
Robin Delargy, LooLoo's Box
<
------
You are here
http://looloosbox.blogspot.com/
Kim at CianciBlue
http://cianciblue.blogspot.com/
Jennifer Jazwick-Smith, Hudathots
http://hudathoughts-jennifer.blogspot.com
Mary Shannon Hicks
http://www.uptwnsh-fallingintothesky.blogspot.com/
Tracy Swartz
http://tracyswartz.com/category/blog
Jacqueline Marchant
http://jaacquelinesjewels.blogspot.com/
Lynnea Perry Bennett
http://designsbylynnea.blogspot.com/
Terry Matusyk
http://pinkchapeau.wordpress.com/
Laurel Steven
http://laurelsteven.blogspot.com/
Dr. Brassy Steamington
http://drbrassysteampunk.blogspot.com/
Pamela Takeshige
http://www.crittersandthings.blogspot.com
Kris Lanae Binsfeld
http://www.cherishdesigns.wordpress.com
Outre Art
http://theartistspaintbox.wordpress.com/
Linzi Alford
http://www.magpieintheskyspoilheaptales.blogspot.com/
Deb Davis
http://naturaltreasuresbydeb.blogspot.com/
Tamara Jones
http://irrysistablejewels.wordpress.com
Harry Wood
http://www.oscarcrow.blogspot.com
Gerry Nickerson
http://gersgems1.blogspot.com/
Elizabeth Owens-Dwy
http://www.thepolymergeek.blogspot.com/
Georgene Lockwood
http://sylvanavintagedesigns.wordpress.com/
Charisa Sloper
http://www.blog.obsidiansoda.com/
Jennifer Justman
http://soulsfiredesigns.blogspot.com/
Beanzie
http://the-vintage-heart.blogspot.com/
Mary Deis
http://mdeis.blogspot.com/
Cheri Reed
http://creativedesignsbycheri.blogspot.com/
Sondra Kolner
http://scrappybydesign.weebly.com/index.html
Sonya Ingersoll-Stille
http://www.dreaminofbeads.blogspot.com/
Lori Anderson
http://www.prettythingsblog.com/
Sandra McGriff
http://skyescreativechaos.blogspot.ca/
Shelly Joyce
http://www.aujourlejour-shelly.blogspot.com/
Joan Williams
http://www.lilrubyjewelry.wordpress.com/
Kashmira Patel
http://sadafulee.blogspot.com/
Deb Beechy
http://beetique56.blogspot.com/
Ginger Bishop
http://lilmummylikes.blogspot.com
Kelli Jacobson
http://creativemoonjewelryandthings.com/
Natalie McKenna
http://www.grubbi.co.uk/
Andrew Thornton
http://andrew-thornton.blogspot.com/
Mary Govaars
http://mlhjewelrydesigns.com/
Kate Mulligan
http://mulliganstewjewelry.blogspot.com/
Lisa Lodge
http://pineridgetreasures.blogspot.com
Tami Luchini
http://ssprocketsmetal.blogspot.com
Monique Lula
http://www.moniquelula.com/blog/
Lee Koopman
http://stregajewellry.wordpress.com/
Jayne Capps
http://mamasgottodoodle.blogspot.com
Susan Lloyd
http://designsbysusan-dbs.blogspot.com/
Cynthia Wainscott
http://www.exoticperujewelry.blogspot.com/
Stephanie Amanti
http://www.stephaniesjewelrybox.blogspot.com/
Alicia Marinache
http://www.allprettythings.ca/
Sam Hamp
http://hampgirl59.blogspot.com/
Lennis Carrier
http://www.windbent.net/
The Milo, my ever-present Workshop Assistant